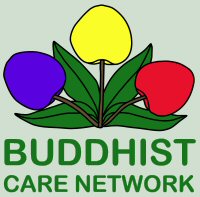 Buddhist Care Network
The Buddhist Care Network website has been created to promote links between Buddhism and health and social care. The compiler, Dayasara (Martin Hillary) is a registered nurse and has been involved with the FWBO (Friends of the Western Buddhist Order) since 1990.
He is presently researching long-term care issues;he hopes both to find out more about the care needs of UK Buddhists, and to assess the possibilities for care projects which have a Buddhist foundation to them whilst serving the wider population.
Dayasara is in contact with a number of other Buddhist care workers. He hopes the site will help people to find support and swap ideas, perhaps especially if they share the same professional background and/or comparable work situation.
Longer-term developments might include Buddhist-based work projects in a range of fields. For general information, see this update on the research and its practical implications.
Since 2006, Dayasara has been part of the Buddhist Healthcare Chaplaincy Group (BHCG), a national initiative to develop services. Potentially, this will lead to paid Buddhist chaplains having input to hospitals, hospices etc. in larger population centres. See the BHCG page. For more information, please use contacts as given on the page, or contact Dayasara.
---